Silence in Chinese / Japanese...
Buy a Silence calligraphy wall scroll here!
Personalize your custom "Silence" project by clicking the button next to your favorite "Silence" title below...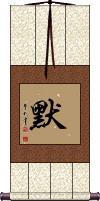 默 / 黙 means silent or silence and is often used in Buddhist context.

Other meanings include dark, secret, or profound.
---
The original form is 默, but you will sometimes see it written in the 黙 Japanese variant form. If you want it in the Japanese form, please choose a Japanese calligrapher and use this to start your order instead of the button above: 黙
Inner Peace / Silence / Serenity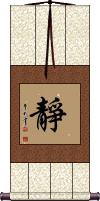 靜 is the simplest way to convey the meaning of inner peace and serenity.

靜 is often translated as "serenity". It can also be used to express the ideas of still, calm, serene, quiet, silent, stillness, not moving or tranquility.

In the old days, Chinese, Japanese, or Korean people might hang a wall scroll with this character in their reading room to bring about a sense of peace in the room.
---

While they once used the same character form in Japan, they now use a slightly-simplified version in modern Japan (after WWII). This version is shown to the right, and can be selected for your wall scroll by clicking on that Kanji instead of the button above.
---
See Also: Peace
The following table may be helpful for those studying Chinese or Japanese...
Title
Characters
Romaji

(Romanized Japanese)

Various forms of Romanized Chinese
Silence
默 / 黙

---

默
moku
mò / mo4 / mo
Inner Peace
Silence
Serenity
靜

---

静
shizu / sei
jìng / jing4 / jing
ching
In some entries above you will see that characters have different versions above and below a line.
In these cases, the characters above the line are Traditional Chinese, while the ones below are Simplified Chinese.
Not the results for silence that you were looking for?
Below are some entries from our dictionary that may match your silence search...
Characters

If shown, 2nd row is Simp. Chinese

Pronunciation
Romanization
Simple Dictionary Definition

叱

see styles
chì
chi4

---

ch`ih
chih

---

shikari
しっ

---

(ateji / phonetic) (interjection) (1) (kana only) shh! (used to silence someone); sh!; (2) (kana only) shoo! (used to drive off an approaching animal, etc.); scolding

黙

see styles
mò
mo4

---

mo

---

moku
もく

---

(noun or adjectival noun) silence; stillness; quietness; (given name) Moku

しい

see styles
shii / shi
しい

不言

see styles
bù yán
bu4 yan2

---

pu yen

---

fugen
ふげん

---

does not say

不語

---

不语

see styles
bù yǔ
bu4 yu3

---

pu yü

---

fugo
ふご

---

silence

六行

see styles
liù xíng
liu4 xing2

---

liu hsing

---

rokugyō

冷場

---

冷场

see styles
lěng chǎng
leng3 chang3

---

leng ch`ang
leng chang

叱叱

see styles
shisshi
しっしっ

啞法

---

哑法

see styles
yǎ fǎ
ya3 fa3

---

ya fa

---

ahō

四記

---

四记

see styles
sì jì
si4 ji4

---

ssu chi

---

shiki

宴默

see styles
yàn mò
yan4 mo4

---

yen mo

---

enmoku

寂然

see styles
jì rán
ji4 ran2

---

chi jan

---

sekizen(p); jakunen
せきぜん(P); じゃくねん

---

(n,adj-t,adv-to) (1) lonely; desolate; (n,adj-t,adv-to) (2) (じゃくねん only) forlornness; desolation; (given name) Jakunen

---

In calmness, quietude, silence; undisturbed; quiescent

寂默

see styles
jí mò
ji2 mo4

---

chi mo

---

jakumoku

屏息

see styles
bǐng xī
bing3 xi1

---

ping hsi

---

heisoku / hesoku
へいそく

---

(noun/participle) bated breath; being cowed into silence

打靜

---

打静

see styles
dǎ jìng
da3 jing4

---

ta ching

---

tajō

搭訕

---

搭讪

see styles
dā shàn
da1 shan4

---

ta shan

梵壇

---

梵坛

see styles
fàn tán
fan4 tan2

---

fan t`an
fan tan

---

bondan

森閑

see styles
shinkan
しんかん

沈黙

see styles
chinmoku
ちんもく

沉寂

see styles
chén jì
chen2 ji4

---

ch`en chi
chen chi

消音

see styles
xiāo yīn
xiao1 yin1

---

hsiao yin

---

shouon / shoon
しょうおん

---

(n,vs,adj-no) silencing (e.g. machine); muffling; muting (e.g. TV)

深閑

see styles
shinkan
しんかん

淵默

---

渊默

see styles
yuān mò
yuan1 mo4

---

yüan mo

滅口

---

灭口

see styles
miè kǒu
mie4 kou3

---

mieh k`ou
mieh kou
to kill sb to prevent them from divulging a secret; to silence sb

無言

---

无言

see styles
wú yán
wu2 yan2

---

wu yen

---

mugon
むごん

---

(noun - becomes adjective with の) silence (not speaking); muteness

---

Without words, silent, speechless; wordless

無音

see styles
muon
むおん

疎音

see styles
soin
そいん

白槌

see styles
bái chuí
bai2 chui2

---

pai ch`ui
pai chui

---

byakutsui

破る

see styles
yaburu
やぶる

箝口

see styles
kenkou / kenko
けんこう kankou / kanko
かんこう
Many custom options...




And formats...



Successful Chinese Character and Japanese Kanji calligraphy searches within the last few hours...
All of our calligraphy wall scrolls are handmade.
When the calligrapher finishes creating your artwork, it is taken to my art mounting workshop in Beijing where a wall scroll is made by hand from a combination of silk, rice paper, and wood.
After we create your wall scroll, it takes at least two weeks for air mail delivery from Beijing to you.
Allow a few weeks for delivery. Rush service speeds it up by a week or two for $10!
When you select your calligraphy, you'll be taken to another page where you can choose various custom options.
Check out my lists of Japanese Kanji Calligraphy Wall Scrolls and Old Korean Hanja Calligraphy Wall Scrolls.
Some people may refer to this entry as Silence Kanji, Silence Characters, Silence in Mandarin Chinese, Silence Characters, Silence in Chinese Writing, Silence in Japanese Writing, Silence in Asian Writing, Silence Ideograms, Chinese Silence symbols, Silence Hieroglyphics, Silence Glyphs, Silence in Chinese Letters, Silence Hanzi, Silence in Japanese Kanji, Silence Pictograms, Silence in the Chinese Written-Language, or Silence in the Japanese Written-Language.
124 people have searched for Silence in Chinese or Japanese in the past year.
Silence was last searched for by someone else on Sep 18th, 2021