Personalize a "Power" Chinese or Japanese Calligraphy Wall Scroll
You can choose from many options to create artwork with the Chinese characters / Asian symbols / Japanese Kanji for Power on a wall scroll...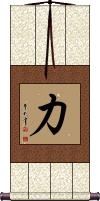 力 is the simplest form of "power" or "strength".

In Japanese it is pronounced "chikara" when used alone, and "ryoku" when used in a sentence (there are also a few other possible pronunciations of this Kanji in Japanese).

In some context, this can mean ability, force, physical strength, capability, and influence.
---
Strong / Powerful / Force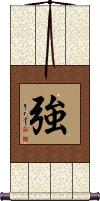 This "strong" character means strength, force, powerful, better, stubborn, and stiff (yes, all of this in one character). This "strong" has less to do with physical strength and more to do with having a winning attitude, or just having the ability to win at something.

Note that most of the time, this character is pronounced "qiang" but when used with the meaning of stubborn, unyielding, or stiff, it is pronounced "jiang" in Chinese.

Also, sometimes "qiang" is used in modern Chinese to describe people that do crazy things (Example: Bicycling from Beijing to Tibet alone). I sometimes can be found outside my Beijing apartment wearing nothing but shorts and a tee-shirt while eating an ice cream during a snow storm, just to hear my neighbors call me "qiang". Maybe they mean "strong" but perhaps they are using the new meaning of "crazy strong".

Also a Korean Hanja with same meaning but mostly used in compound words.

強 is used in Japanese (though normally in compound words). In Japanese, it has the same meaning but in some context can mean "a little more than..". or "a little over [some amount]". Most Japanese would read this as tough, strength, stiff, hard, inflexible, obstinate, or stubborn.
Control of Power
Him Cho Chung

力操正 is a Korean martial arts title meaning, "Power Control".

It's most often cited as one of the 8 key concepts from Tang Soo Do.

This can be pronounced in Chinese but will only be recognized by those familiar with martial arts terms.
The Spirit of the Dragon Horse and Power of a Tiger.
lóng mǎ jīng shén hǔ hǔ shēng wēi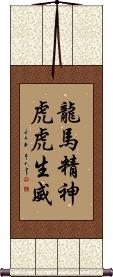 This is an old proverb that is used to wish someone great health and success combined as a great compliment.

The meaning is "The vigor and spirit of the legendary dragon-horse, and the power and prestige of the tiger".

By giving a wall scroll like this to someone, you were either wishing or telling them that they have these qualities. There is also a suggestion of good health - at least anyone with the vigor of a dragon horse, would seem to also be in good health.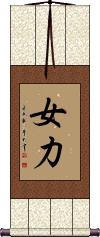 This can be read as "girl power", "woman power", or "female strength".

女力 is kind of a strange or unofficial title in Chinese and Japanese. At least, it's not common for a wall scroll.

This should be "onna ryoku" in Japanese but I found some who suggest it should be "me riki".
Juggernaut / Absolute Power
One Justice Can Overpower 100 Evils

This ancient "One Justice Can Overpower a Hundred Evils" idiom and proverb is famous in China. But it has been around so long that its origins have long been forgotten.

It could be something that Confucius or one of his disciples said but no one can say for sure.
Power of Understanding and Wisdom

悟性 means the power of understanding and insight in Chinese.

It is often associated with Neo-Confucianism. In that regard, it means to realize, perceive, or have the perception of man's true nature. It can also mean to find your soul, the soul of others, or the soul of the world. Some will translate this simply as the state of being "savvy".

In Japanese, this is often translated as wisdom and understanding.
Power of Oneself / Self-Sufficient

自力 is a word in Chinese, Japanese Kanji, old Korean, and Buddhist term meaning: power within oneself; self-sufficient; by oneself; self-made; self-power; inner ability.
Strength / Vigor / Energy
Physical Strength

氣力 can mean any of the words in the title above, and in some context, can also mean, effort, will-power, or talent.

氣力 refers mostly to physical strength (as opposed to mental or spiritual).
---

In modern Japan, they use a simplified first character for this word. If you want to order this title with that special Japanese version, click on the character to the right instead of the button above.
The following table may be helpful for those studying Chinese or Japanese...
All of our calligraphy wall scrolls are handmade.
When the calligrapher finishes creating your artwork, it is taken to my art mounting workshop in Beijing where a wall scroll is made by hand from a combination of silk, rice paper, and wood.
After we create your wall scroll, it takes at least two weeks for air mail delivery from Beijing to you.
Allow a few weeks for delivery. Rush service speeds it up by a week or two for $10!
When you select your calligraphy, you'll be taken to another page where you can choose various custom options.